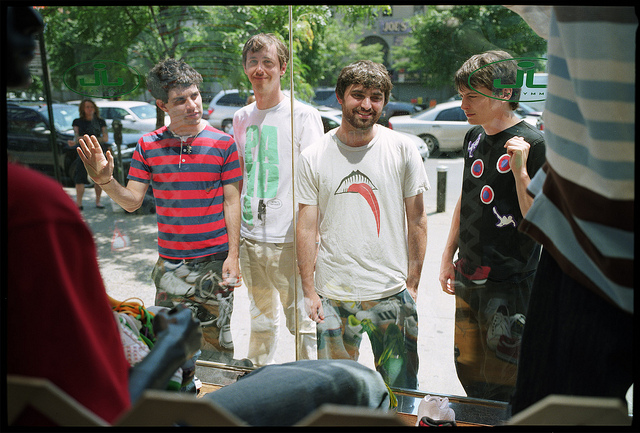 First of all, sorry about embedded videos.
I really don't remember first time I listened the very first Animal Collective song. But I guess it was weird, maybe I just trashed it after some seconds. It don't surprise me, like many complex music kind, you have to train your ears and your mind.
But in fact, I think this band deliver a very basic emotion. An emotion that just make you want to cry, move your head and just smile.
Then I go and take some pills Cause I cant do all of my do's and still feel ill You get that WOOOO!

The Purple Bottle - Feels
If you never listen Animal collective I think there is a song that you have to start with. It will show you some emotional works.
These guys, mostly Panda Bear and Avey Tare at their beginnings wasn't good musicians at my ears in a sense of music complexity. But they have the ability to give you same raw emotion that you can have in music composition mind state. You'll be probably not familiar with this kind of music, but stay here.
After many listen of Spirit They're Gone, Spirit They've Vanished, I just don't understand how I can say:
[..] wasn't good musicians [..]

Myself previous paragraph
Nevermind, let's continue.
The Purple Bottle - Feels
Energy of this music cheating you. You think there is a bunch of sound effect to produce it, but this emotion is raw. Just listen same song in acoustic to understand what I mean. Please, don't stop at the middle of the music, reward is mainly at the end.
The Purple Bottle - Feels (acoustic)
Maybe you dislike how this fucking unkown guy scream in your ears, this give me chills.
Each time I listen and watch this video I saw a young little boy smiling and crying at the same time.
If you feel curious, I advice you to start with Merriweather Post Pavilion album. It's their must pop and easy to listen album. Just force you to listen it, maybe 2, 3 or more times. You'll start to understand the mean of this band.
After that, you'll have many many other albums to discorver, different facets.
---
Can you measure music greatness with it's complexity ? Emotion ? Capacity to send you stuff ?
Have you ever cried not about the mix of context and music, but just cause of music ?
I'm this guy that close eyes, move head and smile in bus next to you. Don't be worry, I'm a cool guy, just full of emotion.
This live session is a energy ball that just explode in you, this is magic. Thank you, Animal Collective.
Animal Collective - Live (Pitchfork)
You missed us Deakin. Let's continue on /mu.
Photo source: Alex Wright